According to Kerry Douglas, President/CEO of Blacksmoke Music, "I salute these two gentlement who are very deserving of all the success they are experiencing right now. I believe they are reaping the benefit of much hard work over the last few years."
EARNEST PUGH –"Rain On Us"
Earnest Pugh Reclaims Top Spot at Radio
Over the last several weeks Earnest Pugh and Marvin Sapp have been playing musical chairs-dominating the top spots at radio. Just three weeks ago, Earnest Pugh's chart topping hit single, "Rain On Us" climbed to #1 on Billboard (Gospel) Radio Charts. The next week Pugh's single and Marvin Sapp's single, "The Best In Me" actually had the exact number of spins, however, Sapp was given the #1 slot because Pugh was down 5 spins from the prior week. This week, it is evident that "Rain On Us" shows no sign of retreat as it has once again reclaimed the top spot.
Kerry Douglas, CEO of Black Smoke Worldwide, is confident that "Rain On Us" will be around for quite a while. "I don't recall any other praise and worship song hanging around the top spot at radio as long as "Rain On Us" has, but each time I watch Pugh minister the song, I see the effect that it has on people. When a song resonates like that, it's destined to remain high on all the charts."
Earnest Pugh Live: "Rain On Us" was recorded in Washington, DC at the Temple of Praise last year. Featuring Vanessa Bell Armstrong and Richard Smallwood, the CD debuted #2 on Billboard Gospel Charts and has remained on the charts for the last 34 weeks.
Kerris Douglas, (representative from Douglas Boyz Radio Promotions) commented "We are elated to see "Rain On Us" back on top where it belongs. We have both a powerful song and an incredible artist so we plan to camp out in the top 5 for a minute." This marks the very first #1 Single to date for the Houston based company.

Booking: Contact EPM Music Group at 301.526.3003.
Radio Tracking: Douglasboyz Radio Promotions @ 832.912.7700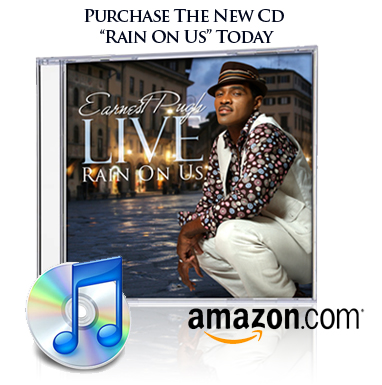 Visit Earnest at www.earnestpugh.com .
---
JAMES FORTUNE & FIYA – "Encore"
James Fortune & FIYA new CD, "Encore" is #3 this week on Billboard Top Gospel Album chart and #3 on Amazon's Christian/Gospel Chart.
The first single and title track, "Encore" is currently on both gospel and urban mainstream radio. This week, the single charted at #5 on Billboard's Hot Gospel Song chart. "Encore" is also crossing over in the Top 20 at the Urban Adult Contemporary radio format. With only three albums released to date, Fortune's projects have achieved great success at radio. He currently has four singles that peaked in the Top 5 on Billboard's Hot Gospel Song chart including the #1 hit, "I Trust You" which was on the chart for 29 consecutive weeks; "You Survived," peaking at #2; and "Wouldn't Know You" at #2.
The "Encore" CD features 18 songs, all co-written by Fortune. The album producers are Terence Vaughn and Ay'Ron Lewis. "Encore" is executive produced by Kerry Douglas, President of Black Smoke Music Worldwide. The DVD for "Encore" will be in stores May 2010.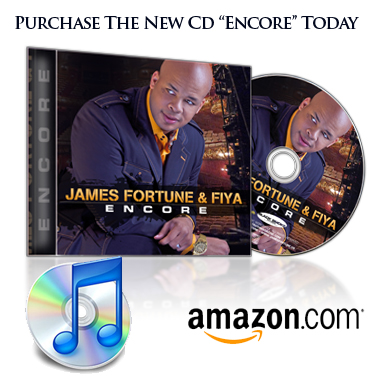 Blacksmoke Music has great things in store in this upcoming season to include a tour, more CD and Video releases. Stay tuned.
For information on booking James Fortune and FIYA and other Black Smoke Recording Artists, please call: Kerry Douglas at 713-245-6204 or via email at kdouglas@gtmmedia.com or Gwendolyn Quinn at 718-622-4100 or via email at GwendolynQuinn@aol.com.
Look out for the soon coming "Meet and Greet Tour" with Earnest Pugh and James Fortune in various cities. For more info contact Kerry Douglas at 713.245.6204 or email kdouglas@gtmmedia.com.
For radio promotions, please contact:
Douglas Boyz Radio Promotions at 832-741-1168 or via email at douglasboyzradiopromotions@gtmmedia.com.
Contact Information:
Black Smoke Music World Wide, Inc.
Kerry Douglas
Kdouglas@gtmmedia.com
(713) 245-6204
For artist interviews contact:
Douglas Boyz Radio Promotions
(832) 741-1168
douglasboyzpromotions@gtmmedia.com
For Bookings Contact:
(832) 912-7700
kperro@gtmmedia.com